Caring For Kids » Childcare » Diaper Bag Checklist: Essentials To Pack
Diaper Bag Checklist: Essentials To Pack
2022-04-07
As a mother, meet your new best friend, the one you seriously want by your side—all the time. If you go out without it, you'll probably have to slam on the brakes, make a U-turn, and head back home to retrieve it. We're talking about a diaper bag!
To avoid being more stressed before you can finally go out with your little one, here's a diaper checklist to help you out!
What To Put in the Diaper Bag? The Basics
1) Diapers
They are not called diaper bags for nothing. Always keep more diapers and diaper pants in the bag than you think you will need. If you use washable diapers, bring extra liners and covers as well.
2) Changing Mats
If you're changing your baby outdoors, you'll want to put them on a clean, soft surface. A changing mat is ideal, especially since many changing tables also have space for diapers, wipes, and other items needed for changing. This way, you don't have to carry a whole bag of diapers to the baby's room all the time.
3) Wipes
Get lots of these for your little one! : Wipes: moist, hygienic wipes that clean the baby's bottom. Essential for your childcare bag.
4) Baby Ointment
Always keep your baby's sensitive bottom soft, especially if you don't want to worry about diaper rash.
5) A Set of Dry Clothes for Baby
Think onesies, shirts, and pants because accidents happen more often than you might expect, especially when you're away.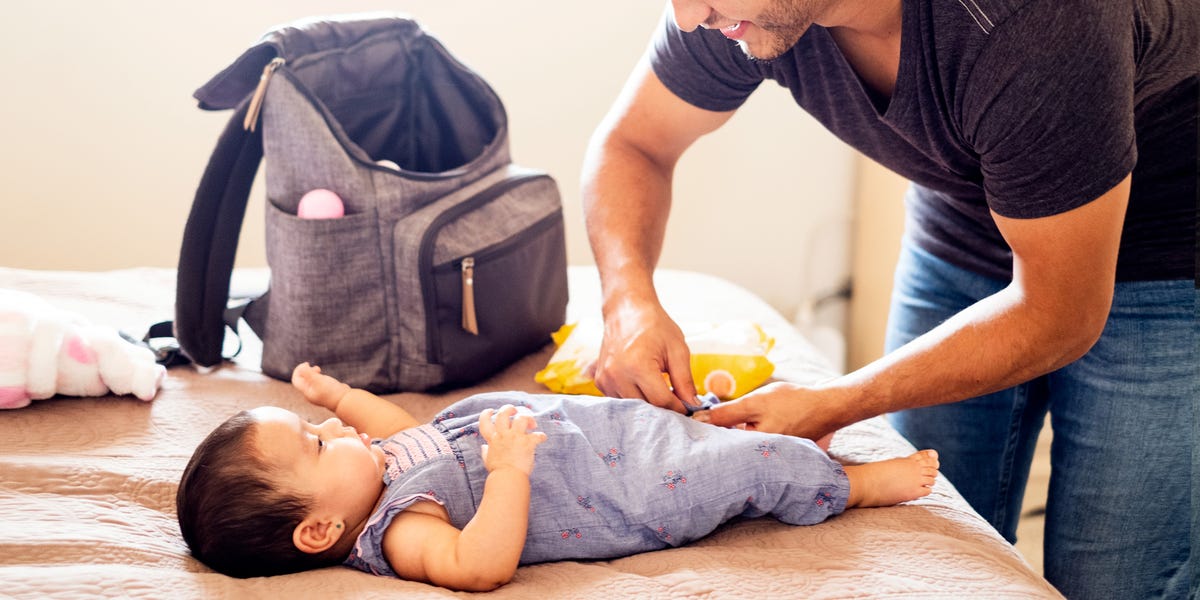 6) Band-Aids
Accidents are right around the corner. Band-aids are not essential, but can be useful, both for you and your child.
7) Diaper Bag
This can be a sandwich bag or other disposable bag, for example. It is also convenient to put used plates, bowls, spoons, etc., in the bag so that dirty dishes do not move around. Of course, you don't want the baby you've taken the trouble to raise to be covered in smells.
8) Children's Toys and Books
Distraction for little ones while changing clothes, comfort in times of great pain.
9) Spare Pacifiers
It's not rare for babies to drop their pacifier on the road, and you may not realize it until it's too late. So, always keep a spare pacifier in your diaper bag. Of course, they should be packed hygienically.
If You're Bottle-feeding Your Baby
Water-For when you go somewhere you don't have it on hand.
Milk powder– Preferably in a container that can be divided into smaller portions. Always bring a little more than you think you will need. If it spills or something goes wrong, you have enough on hand to make another batch.
Two clean baby bottles and extra teat
Bottle warmer– only if you are sure there is no place nearby to warm the bottles. It is helpful to purchase a compact baby bottle warmer that can easily be placed in a diaper bag.
If You're Breastfeeding
Nursing Cloth
There is not always room to breastfeed without being disturbed, no matter where you go. If you want privacy in public, a nursing blanket can be the solution. Wrap the nursing cloth around your neck or shoulders so that your baby can enjoy his or her meal. Don't have room in your bag for a particular nursing cloth? Even hydrophilic diapers work!
Breast Pads
Breast pads ensure that breast milk that leaks from the nipple is collected and does not create damp spots on bras or clothing. Bring extra with you so they can be changed quickly in case of leakage.
Let us know if these few tips have helped you in packing your diaper bags in the comments below!
You May Also Like
2023-05-08