Caring For Kids » Breastfeedingtitle_li=Childcare » Feeding Your Baby On The Go: 7 Essential Tips
Feeding Your Baby On The Go: 7 Essential Tips
2022-03-30
Are you going out with your baby? That's wonderful. Enjoy new impressions and experiences together. However, even outdoors, your baby needs natural food. Whether you are breastfeeding or bottle-feeding, here are some tips to make feeding on the move as easy and natural as at home!
What Are Some Things To Keep In Mind When Traveling With Young Children?
1) Well-stocked Diaper Bag
Let's start with the base one, the diaper bag. Diaper bags and baby care bags come in all shapes, sizes, and budgets. A good diaper bag is an excellent investment. Try finding a versatile bag to get everything out of without worrying about having too much stuff in. Avoid those that are too small with few compartments.
In any case, what you should include in your baby's nursing bag is a burp cloth, a hydrophilic cloth, and a set of clean clothes. That way, if your baby spits up down there, you won't have to "panic, panic".
Always keep a spare set of care items in the diaper bag. And make sure everything is replenished on time. This saves time and prevents stress.
2) Breastfeeding Scarf
Opinions differ on this, but breastfeeding in public is a "yes" for many young mothers. Our advice: only do what you feel comfortable with. After all, you and your baby are number one.
For instance, if you want more privacy when breastfeeding your baby, nursing scarves or blankets are ideal. Under this beautiful cloth or scarf, your baby can drink safely and securely, and you get the privacy you need. Along the way, you never know when you will find the right place or time to breastfeed. Remember to get breast cups as well. When placed inside a bra, they absorb the milk and prevent stains on your clothes.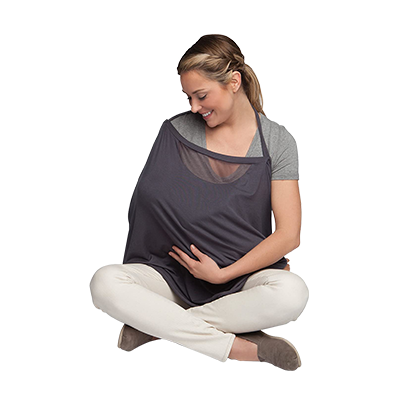 3) Clothing and Accessories Suitable for Breastfeeding
Are you breastfeeding? Then, it would be helpful if the baby is easy to lace up. Appropriate clothing and accessories can help in this process.
4) Nursing Bras and Shirts
If you are at home, you can tuck in your shirt so that your baby can see your belly when he drinks. In public, you may not like it. That's why nursing bras and tops are super practical basics for moms on the go. They can be easily unbuttoned and lowered so that baby can take a quick drink of the breast. Nursing shirts and bras come in all shapes and sizes, from fancy lace bras with fun prints to simple basics. The choice is yours!
5) The Right Accessories for Your Bottle
Have you switched to baby bottles? And with the right things and preparation, half the job is already done. Here's what to include in your diaper bag to help your baby relax and feed safely:
6) Milk Powder Dispensers or Stackable Boxes
Milk powder dispensers or stacking boxes allow you to store powdered milk and porridge in appropriate quantities, separated so that they can be stacked. Porridge is measured at home, so you don't have to bring jars full of it in measuring cups. There are stackable boxes with different numbers of jars, usually at least three. If you need more than three feeders while traveling, you can easily combine two sets into one.
7) Baby Bottle Nipples
Are you on the road for long periods and nursing frequently? Unless you have the opportunity to clean bottles along the way properly, it is helpful to bring several clean bottles and nipples.
Your baby's immune system is not yet as developed as yours. Therefore, make sure to always maintain a high level of hygiene. Sterilize bottles and dispose of leftover milk immediately to prevent bacteria from growing.
Let us know if these few tips have helped you in the comments below!
You May Also Like
2022-12-12